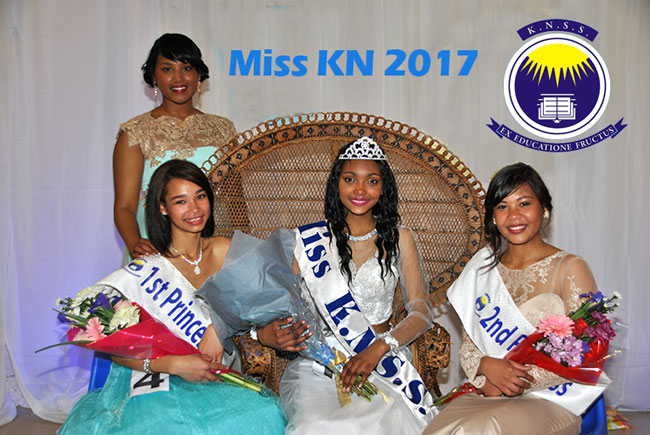 MISS KLEIN NEDERBURG SECONDARY 2017 WAS CROWNED ON FRI 4 AUG 2017 IN THE SCHOOL HALL.
Miss KN: Cameron Brown (middle).
1st Princess: Danike Adams (left).
2nd Princess: Leshe Davids (right).
Back: Miss KN 2016: Kayla Abrahams (conducted the crowning).

Congratulations to the students.
Fun Run 2017
A sea of blue and white greeted Paarl on a beautiful summer's morning in the Boland. It was of course the annual Fun Run of Klein Nederburg that took place on Friday, 03 February 2017.
As per usual the dedicated team of teachers descended on the road and went to their designated points to ensure a smooth ride for the learners. In the end Eldean Adams (Grade 8) and Wesley Simons (Grade 12F) were victorious in the girls' and boys' category respectively.
After the medal ceremony a very entertaining concert by the grade 8s (under the auspicious guidance of Ms M. Green and her team) concluded the day.
A special thank you goes out to the men in blue, the traffic police, for their input and also to Mr Paul Liebenberg for his sponsorship.
So, we say goodbye to another successful Fun Run under the expertise leadership of Mr G. Fortuin and his team.
'Till next year!

PICS
To view the action pics of the Fun Run 2017 - click here (More pics will be uploaded soon).